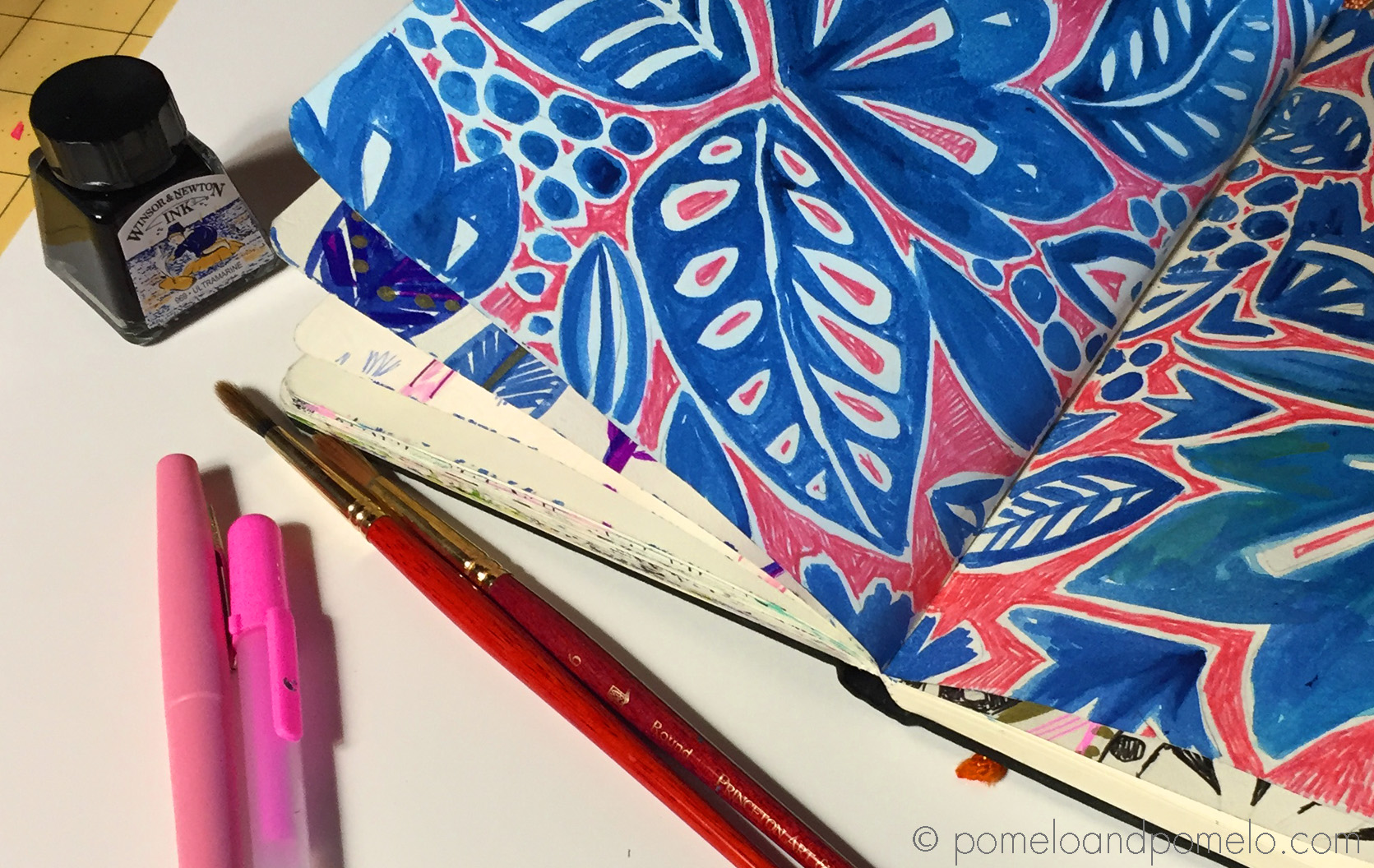 Pomelo & Pomelo offers a wide range of services to fit your creative needs. Artwork is available to purchase outright or license. Don't see exactly what you're looking for? We happily work on commission! Contact us here.
Print out of one the art prints from @pomelococktailclub — featuring one of the best shaken drinks out there. This one is headed out to the recipe's creator- Joaquín Simó! . . . #cocktailart #barart #pomelococktailclub
This is probably the happiest bit of mail I've received in a long time! @adam.lisagor of @sandwichvideo sent me these delightful bits of sunshine after I commented on their post. Backstory time: I've been following Adam since the days of You Look Nice Today— A journal of emotional hygiene— which was a podcast Ben shared with me when we first started dating in 2008. To me, YLNT were the original Good Boys of the podcast world and have heavily influenced an entire genre of podcasting. I listened to episodes when Ben was out of the country to help me feel closer to him and make me laugh. We vowed to see them live one day! Sadly that never happened, the hosts moved on in their respective careers/lives, each building something remarkable. Adam has gone from recording a podcast in what sounded like a bathroom to a full-blown video operation. I couldn't be more proud of what he's created and I look forward to seeing how it grows. Cheers, Adam! #doyouhaveaquestionforthesandwich?
Hey kids! Come see me, my rad custom dress from @autumn_adeigbo and some super fun art at @blueprintshows today through Thursday at Fort Mason, San Francisco! #blueprintshows #printpattern #dowhatyoulove #surfacepatterndesign #autumnadeigbo #bossbabe
Y'all are going to have to pop over to @pomelococktailclub to get the story behind this post 😉 Cheers to rando Wednesday nights! 🤷🏻‍♀️
NO MORE BRACES. 🙌🏼🙌🏼 also my orthodontist office had a CANDY TABLE and gave me a bottle of Prosecco??? It's been such a good office, I highly recommend Morrish & Stewart Orthodontics in Bradenton/Lakewood Ranch @morrishstewart
YAY CAKE. 👏🏼👏🏼😉🤲🏻🤷🏻‍♀️! Perhaps I can squeeze another print or two in before we pack it all up for @blueprintshows in San Francisco. All the cool kids will be there— join us October 1-3 at Gallery 308 // Fort Mason Centre. #blueprintshows #printshow #printpattern #surfacedesign #patterndesigner #freelanceillustrator #printstudio #mycreativebiz #bossbabe
NEW ART POST // New print available in the shop! In honor of Bee's Knees Week (September 23-29) 50% of each sale of this print will go to the Bee Cause Project— an organization committed to installing beehives in public places and schools to help educate and inspire to save the bees. Every year Barr Hill Gin hosts Bee's Knees Week to help spread the word of how important honey bees are to our livelihood. To date, they have raised over 30,000! Please join me in helping to support the bees! Link in bio over at @pomelococktailclub 🐝🍯 #beeskneesweek #barrhillgin #savethebees #honeybee #pomelococktailclub #homebartender #homebar #drinkingnow #cocktails #craftcocktails #imbibe
Bright suns! We had the most glorious day exploring the vibrant outpost of Batuu. The Resistance is in good hands. . . Till the spire!
👏🏼👏🏼👏🏼 The majority of the printing is done for our next @blueprintshows in San Francisco! Next week I'll print out whatever I get done between now and then... . . I'm pretty pleased with a lot of these pieces and can't wait to show them to my clients! See y'all soon. :) #blueprintshows #pomeloandpomelo #printshow #surfacepatterndesign #freelanceillustrator #printpattern #mycreativebiz
Follow me!
If you are a manufacturer, art director, or buyer and interested in viewing a complete portfolio, please email me using the form on the contact page.
All images copyright Pomelo & Pomelo, LLC 2017